Acoustics in the classroom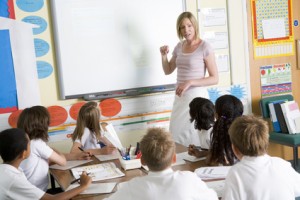 Poor concentrated pupils/students?
Stressed out teachers?
Poor acoustics in the classroom can be really frustrating when you like to teach your pupils in the  best way. Classrooms are often furnished with hard materials e.g. for ceilings and floors and with cabinets of steel. Materials are often choosen for hygienic reasons. At the same time, acoustics in the classroom is completely forgotten.
Result of poor acoustics in the classroom
Too much resonance
Too much reverberation time
Poor limpidity
Limpidity
There are two factors which can affect the limpidity. These are the background noise and the acoustics. For background noise we offer the soundfield system as a solution. But don't underestimate acoustics in the classroom! When the limpidity of the teacher
is bad, the teacher will get tensed and there is a big risk he will suffer from voice problems. Students will lose their concentration.
We decorate classrooms to optimize the acoustic.
Before we do, we first execute a sound measurement. This measurement determines, which acoustic adjustments are necessary. Our acoustic products can be produced in the style and color you like.