Hearing Loops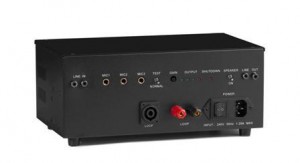 Hearing loops
To offer people with impaired  hearing optimal access, you should use hearing loops. Your Sense has developed hearing loops for every room and every situation.
Why use a hearing loop?
Hearing loops  significantly improve sound quality for hearing-aid wearers. A hearing loop replaces the sound between the sound source and the listener. A hearing loop replaces the sound between the sound source and the- listener. This is done with an inductive signal that is not affected by acoustics or other sounds. Hearing loops consist of a cable which will be installed either in the ceiling or the floor. Via this cable a signal will be sent to the hearing aid, as shown in the illustration: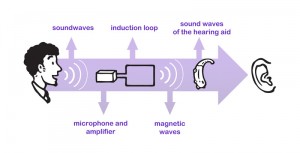 Every building and every room are different . For every  different size of room we have a suitable hearing loop. Your Sense has three kinds of hearing loops:
Hearing Loop YS50 – The Your Sense Hearing Loop  is for small areas. For example, a consulting room or smal meeting room less than 50m2.
Hearing Loop YS200 – The Hearing Loop for spaces up  to 200m2. The YS200 Hearing Loop has two standard inputs which can be used for a microphone or cable, a 100V input and an alarm input.
Hearing Loop YS500 –  is very suitable for large meeting and conference rooms, but also lecture halls.
The YS500 Hearing Loop has several inputs and outputs. It offers flexible use and can handle the most complicated sound issues, allowing hearing aid wearers to understand and participate easily during meetings, classes, etc.*- It's flexible in its use and it can handle the most complicated sound issues. Hearing aid wearers can easily understand and participate during meetings, classes etcetera.
The YS50 is for rooms up to 50 m2, The YS200 is for rooms up to 200 m2 and the YS500 is for the bigger rooms of 500 m2.
Why are hearing loops important?
For people with a hearing aid, it's very difficult to concentrate on a speech if there is a lot of  background noise. A hearing aid only transmits sound, so it will transmit all  sounds and therefore not filter background noise.
Hearing loops (induction loops) create an environment in which a hearing-aid wearer can communicate perfectly and understand their discussion partner without effort.
A hearing aid is a very good device for understanding conversations, but beause it's a transmitter it will also transmit background noise.
The human ear has the ability to filter noises which are not significant. A hearing-aid wearer can't. But a hearing loop will. Hearing loops are recommendable in public buildings and other places where it's noisy.
Two of our most popular hearing loops are:
How does a hearing loop work?