Elevator Loop
One out of seven passengers in your elevators is hard of hearing




If they are hearing-aid wearers, they won't be able to call


 

for help via the intercom system in the event of an emergency


 

 All they will hear is a shrill whistle




Imagine how insecure they must feel
Without an elevator loop:
People may complain about the unsafe situation
People may get stuck for too long
People may get hurt or an injury may get worse because help cannot be summoned
The passengers involved could file a claim against you for the above points.
Watch the video to see what the elevator loop will do for you and your passengers:
What is an elevator loop?

Your Sense has designed an induction loop for elevators. This lift loop makes communication between the emergency helpdesk and the hard of hearing passenger possible.How?
The Elevator Induction loop creates a magnetic field in the elevator car. The hearing-aid wearer only has to switch the hearing aid to the Telecoil setting to receive the signal.
Advantages of the Your Sense Elevator Loop?
Only system to have passed testing for use in elevators to date
Universal operation- designed for use in all elevators with any manufacturer of emergency phone and floor announcer
DC supply- can be powered by existing supply or mains
Plug and Play, internal loop and microphone for very simple installation
Options for external loop and line level inputs ensure optimal flexibilitty
Twin inputs, one unit for both emergency phone and floor announcer
Can be installed behind COP or on car roof, less risk of vandalism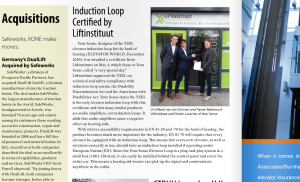 Liftinstituut
Now you know almost anything you need to know about the Your Sense Elevator Loop.
Our elevator loop is the only loop to have been tested and certified by Liftinstituut. This means that if you choose the YSEL, you choose safe and certain acces for all your guests wearing a hearing aid.
The Your Sense Elevator Loop is the most frequently used elevator loop in the world.
Why is our Elevator Loop the most frequently used Elevator Loop?
100% Delivery Performance 

Plug and Play system
Compact Fit, 135 x 105 mm
Full Car Coverage
 Norms and regulations
Conforms to all EN requirements, including but not limited to:- EN 61000-6-3:2007, EN 61000-6-4:2007, EN 61000-6-1:2007, EN 61000-6-2:2005
YSEL conforms to relevant parts EN12015, EN12016, particularly but not limited to EN61000-4- parts 2 to 6
IEC60118-4:2007 When correctly installed and commissioned the YSEL conforms to the standard.