Sound in the office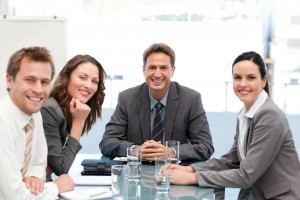 Sound in the open office
Today's trend is to work in open offices. There are, as you problably know, advantages like:
The open ambiance

The efficiency
Short line communication
But did you know what the disadvantages can be?  Many people can't concentrate very well because of the rumour. People can feel:
Irritated

Tired
They're losing control
Even become ill
A sound  masking system will mask the background noise. You will feel, that there will be more piece in the office.
Advantages sound masking:

Concentration
Productivity
Privacy, in some branches a must
Less irritation
Less chance
Productivity
Privacy, in some branches a must
Less irritation
Less chance for health complaints – when one experiences hindrance from the noises outside, they will close the windows. The result is, that the working space will not be ventilated in the right way.
Additional
An additional advantage is, that our Sound Masking system offers the possibility for an intercom system. Sound masking and intercom are integrated in one system.
Acoustics in an open office
In big spaces like an open office, noises can be sound less pleasant. They will, as we call it, drop dead. This gives a "cold" ambiance. We can facilitate the office with some acoustic solutions. You can think of furniture, objects e.g. In combation with sound masking, the office will be a nice place to work.
For the hard of hearing customer and staff member:
Induction loop in the conference room
When a staff member or customer is hard of hearing, it's recommendable to install an induction loop. In this way, they can fully take part in the meeting.
An induction loop system can "leak" sound. This means, that the signal of the loop system will not only stay in the meeting room but also go outside the room.
Infrared system and privacy
Do  you want an absolute guarantee, that there is leak, you can choose the infrared hearing system. The most important feature of an infrared system is that it doen't leak. With an infrared system you can be sure, that everyone can participate in the meeting. All that has been discussed, will stay in the meeting room!