Acoustics in the office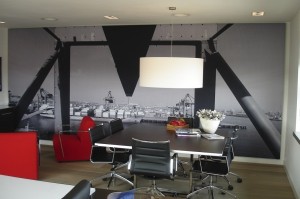 Most of the time, offices are designed with furniture of solid materials, like glas, concrete and solid floors. These kind of material are hardly sound absorbing. Good acoustics in the office is not a luxury, it's necessary.
Open offices
Not only will acoustic will improve the sound experience, it also takes care of better privacy, which becomes more and more important because of rise of number of open offices. To keep the communication line short, more people work more close together in a big space. This is efficient but a lot of office employees, (a study says about 70%) complains about the noise pollution. A cause can be, that people have difficulties to concentrate and they suffer from more stress. Noise pollution can even raise the sickness absence!
Acoustics is about limpidity and noise pollution. When the acoustics is poor, sound will drop dead or can sound very shrill. That makes it difficult, to understand colleagues properly.
Acoustic solutions
Your Sense designs and produces her own line of acoustic objects. These objects all fulfil the fire safety standards. Before we equip a room, we always perform a reverberation measurement. With the results of this measurement, we can decide, how we can furniture your office in the best acoustic way. Of course, we will think about the esthetics. We can adjust the look of the acoustic objects to the design of your office. In this way, the acoustics will be the perfect completion for your office! After the acoustic design we will perform another reverberation measurement to directly show you the good results.
To come to the best result, we like to advise you, the soundmasking system, besides the acoustics. This system masks disturbing sounds (traffic noise, talking colleaugues) and will take care of more peace and quiet in the office.